Epilogue
And so, the results were (scroll down)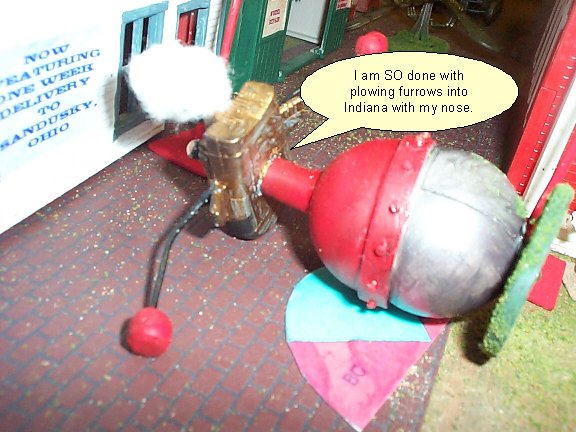 1st Place: Egg Chen, the Scarlet Mandarin (Prize to Hal Dyson, the Coveted LGC trophy and a Eureka Miniature, courtesy of Joel at J&T miniatures) and you said you never had any luck, Hal!
2nd Place: COL Greenmantle (Prize to Hal's Grandson... Jeremy?: Eureka miniature, also from J&T)
3rd Place: Colonel Greenmantle of the DragonFly Guards (Prize: coupon)
Coupons for BRIGADE GAMES, a major supplier of Steampunk/Victoriana figures and rules, to everyone who participated. You can get Eureka Figures at J&T OR Brigade Games in the States.
Finally, the MOST STYLISH DEATH award goes to Dan, the fellow who jumped Three Stage Fred over the Wabash. Not bad! (Prize, painted "Cirque Start Team" from Nic Robson of Eureka Miniatures).
ACKNOWLEDGEMENTS (please read)
I had a wonderful time designing, playing, testing and running LE GRAND CIRQUE, ONCE AROUND THE WABASH, OLD CHAP! It was a lot of work, and I did not do it alone. So here's some shout outs and thank-yous, you can start blushing now.
First, FOR AUDREY, for ignoring the large amounts of paint, small bits and crunchy things as I took over the south end of the kitchen table for a solid month and a half prior to HISTORICON (as well as the back deck when I was finishing terrain tiles). FOR ANNIE and GARRETT, for helping me paint buildings.
FOR DAVE MARKLEY, a great source of inspiration and the prime member of the LGC staff! Dave allowed me to use his basement in our first-ever terrain board building experiment. We were very pleased with the result. Also for troubleshooting the rules as usual, suggesting great spoilers and coming up with the mid-race bridge idea. ALSO for the loan of an O-scale railroad bridge for the South end of the course. ALSO for transforming the "Firehouse" and "School" K-Line buildings into the Collegium and the Wabash Firehouse. ALSO for helping setup, pulldown, and run the danged thing when my voice went out, both nights.
FOR YOUNG DAVID M., for similar setup/pulldown efforts, and being gracious about his dad painting the crazy Victorian stuff when he should have been painting a castle for you.
FOR BRUCE M, for similar rules suggestions (when we came up with the LGC concept), helping with setup and pulldown. And racing that clunker, the Mole Wagon.
FOR HARRY, for invaluable help in setup and pulldown.
FOR THE VARIOUS SPONSORS OF THE LGC RACES at HISTORICON: Thank you, Lon, Joel, and Nic.
FOR Larry and Lori Brom for the Colonial War venue and your creative interpertation of the LGC as being "historic"
FOR the Colonial Wars Yahoo Group, who collectively listen patiently to my ramblings and make some great suggestions, comments and always timely assistance.
FOR THE VARIOUS INDIVIDUALS WHO LENT OR OUTRIGHT GAVE ME KEEN STUFF to run this event with: Thank you Ed Watts, Matt Waugh, Chick Lewis, Frank Fey and Peter Macdonald. If it didn't show up in this race, it will in the next one!
FOR JOHN ADKINS: who took all the pictures you've seen so far!
FOR the Thursday Night Gaming Group at Little Wars, for playtesting.
And with this note of thanks, gentle reader, my exertions are at an end. I hope you've enjoyed the narrative, and hope to see you at Wabash (again) at Fall-In 01, or at Le Grand Cirque du Pyramides at Cold Wars 02!
BACK TO START | PAGE 1 | PAGE 2 | PAGE 3 | PAGE 4 | PAGE 5 | PAGE 6 | PAGE 7