Recap, Page Six: And you'll never guess what happened next!
The One Player that everyone kept ignoring was Mister Hal Dyson, piloting the Scarlet Mandarin's Rocket Bike. For good reason; he had taken his share of the spills, and was down to a point when he crossed the bridge. So when the Count, Greenmantle and Dowd jockeyed to try to go down the streets of Wabash, Hal rested a turn to gain back a point or two. Then, as the Mandarin, he aimed down an extremely narrow strip of land BEHIND the buildings on the riverbank (which was, technically, "in the flags".... and FIRED HIS ROCKET!!
With a whoosh, he rolled well and added 5D6 for the rocket assist (first turn). This got him to the paved section right before the Collegium.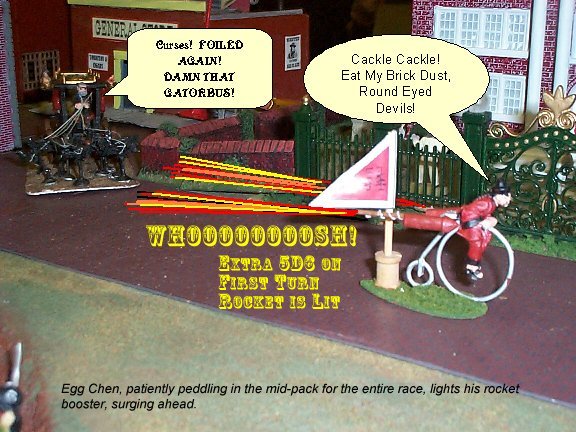 As the other Racers gazed on in awe, the Scarlet Mandarin zips by the Bat Coach, past Collegium, where the Mad Doctors are busily 'harvesting' poor Three Stage Fred...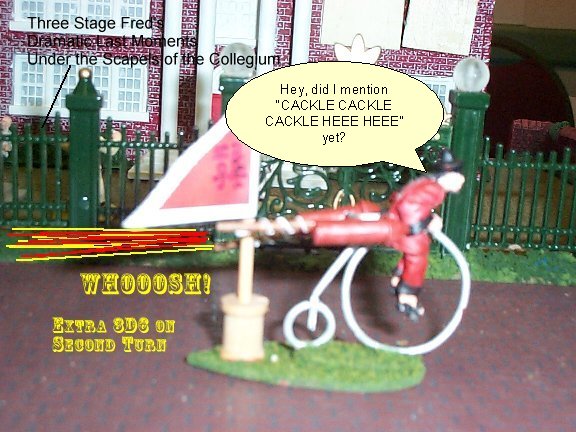 The Mandarin Still had residual momentum from the Rocket Boost next turn (3D6), so that, and the combination of an extra 1" bonus on paved road, was sufficient to get him across the finish line with about 6" to spare: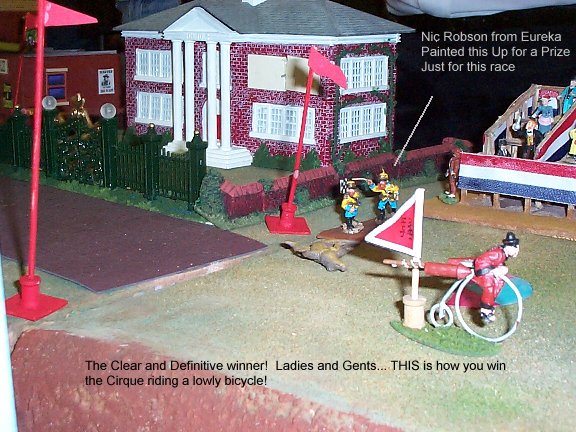 And so, the lowly pennyfarthing, despised by the lovers of gizmos, pulls off a clear and unquestionable victory.
NEXT: Epilogue: Race Results and Acknowledgements
BACK TO START | PAGE 1 | PAGE 2 | PAGE 3 | PAGE 4 | PAGE 5 | PAGE 6 | PAGE 7