I received this game for Christmas last year, and quickly became a fan of it. Unfortunately, my gaming group has yet to be inspired to play a multiplayer game of Titan, so I decided to create a gamebox for it. This proved to be very time consuming. There are many elements to Titan: characters, maps, and masterboard. The masterboard (main mapboard in Titan-ese) was going to be the most difficult challenge of all until I found a respectible bitmap version of it on a Titan PBeM site. The counters and maps weren't very difficult, there's just a lot of everything in Titan!
NOTE: there are now two versions of this gamebox. ROB MCDOUGALL has taken the gamebox you see illustrated here, and scanned the map image from the original game to replace the graphic I use for the map. The resulting file is rather large in comparison, but features graphics from the original game. You can download Rob's gamebox HERE. Note the download file is 1.07 meg zipped. I can't get it to download, so I can't provide screenshots.
LEGAL DISCLAIMER
Potential Downloader: I'm providing this Titan game support module to you for your personal use, based upon the presumption that you legally own a physical copy of the game Titan, published by Avalon Hill/Hasbro, and copyrighted 1982 by Avalon Hill. This module is provided free of charge, for no commercial consideration. Please respect Avalon Hill/Hasbro's copyrights and do not distribute this module beyond your own pc or other Titan gameplayers who also own the game.
This module is created using Cyberboard, Dale Larson's excellent FREE play by email utility. If you haven't picked this up yet, please visit the Cyberboard website to get a copy: You cannot use this Titan gamebox without Cyberboard! CB runs on Wintel machines only... so if that's a showstopper, my apologies.
---
The Action
This is a depiction of the Masterboard, with legion markers on it.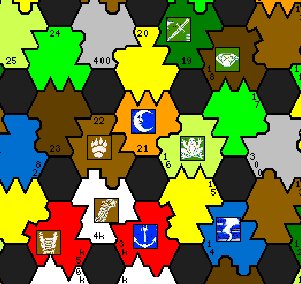 Here is a Battle board, with some troops on it: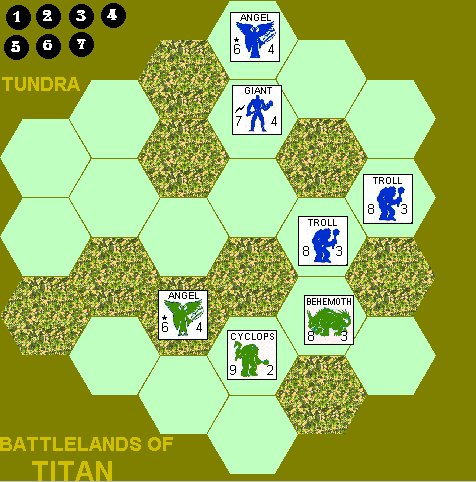 Here's how we keep track of what troops are in what legions:

---
How to get a copy:

NOTE BENE: I haven't included any scenario files with this gamebox. They must be created to play a game. The file is 140k zipped, expanding to 1 MB.
For help with starting a Cyberboard game, please refer to my tutorial.
---
Online Resources
Titan Homepage by Bruno Wolff III The big kahuna. Bruno runs the AREA ratings for Titan, and has packed his page with all sorts of useful information about Titan.

Java Titan This is a new page still heavily under construction, and seems stalled.

Temple of Titan This site has some very cool Balrog counters.

Two Bit Productions' "More Titan Please" website This page is fantastic. It has loads of variants, alternative artwork, new creatures, a proposal for a Titan computer game...
Link to the Boardgame Player's Association web page. The BPA will be running the successor tournment to Avalocon, now that Hasbro has declined to run Avaloncon again. (link is down... but I'm guessing it's temporary)
Grognard index of General articles on the Grognard Web Page.
Warhorse Simulations page hosts a new automated Tracking system for Titan, similar to the ones they've made for FOR THE PEOPLE and BLUE Vs. GREY
Eric Pass' Home Page Eric has a list of people who are interested in PBEM Titan.
Thanks to Bruno Wolff and 2Bit Productions for the list of links.