Holy War

Play By Email Support Page

NEW! TWO versions of Holy War
NEW! Pierre Thierren has developed a new and improved version of the Holy War gamefile. This file will take advantage of the Hidden Movement capabilities of Cyberboard 2.0. See "How to Get the Files" below.
Holy War is an interesting game with a pretty weird starting point. AMTIK is a large, self contained universe 400,000 km long. AMTIK created a "universe" inside himself with sensor points sticking into it at two points. Life developed inside the universe, and soon, intelligence, and soon after that, conflict. There are two schisms of beings inside the pocket universe, the Holy Banders and the Sunthrowers. They are embroiled in a "pocket" war.....
Holy War is a little weird, but it starts to grow on you very quickly. I have a problem following the combat sequence, which goes like so:
HOLY WAR TURN SEQUENCE:
ACTIVATE (place on map using click and drag) TEN "AT LARGE" CREWPOINTS
SUNTHROWER MOVEMENT PHASE
SUNTHROWER COMBAT PHASE (send turn to Holy Bander Player)
HOLY BANDER MOVEMENT PHASE
HOLY BANDER COMBAT PHASE
NEUTRAL JUDGEMENT PHASE (Holy Bander Player rolls for both?)
NOTICE: This Gamebox is created using Dale Larson's excellent Play By Email utility, Cyberboard (the poor man's Aide De Camp!)
HOLY WAR is copyright, Metagaming, 1979.

Designer: Lynn Willis
Developer: Robert Taylor and Howard Thompson
Graphics: Ben Ostrander

The Action (VERSION ONE)
The graphic above illustrates some of the features of gamebox version one. The Holy Banders (red brown) have Star Guards in hexes 01, 14 and 19. The Sunthrowers (white) are advancing with a Missile Pack (MP), a Star Cruiser (SC) and a Ranger (R). The counter mix is definitely a good feature of this game-- the sides seem balanced, but not mirror images of each other.
THE ACTION (VERSION 2)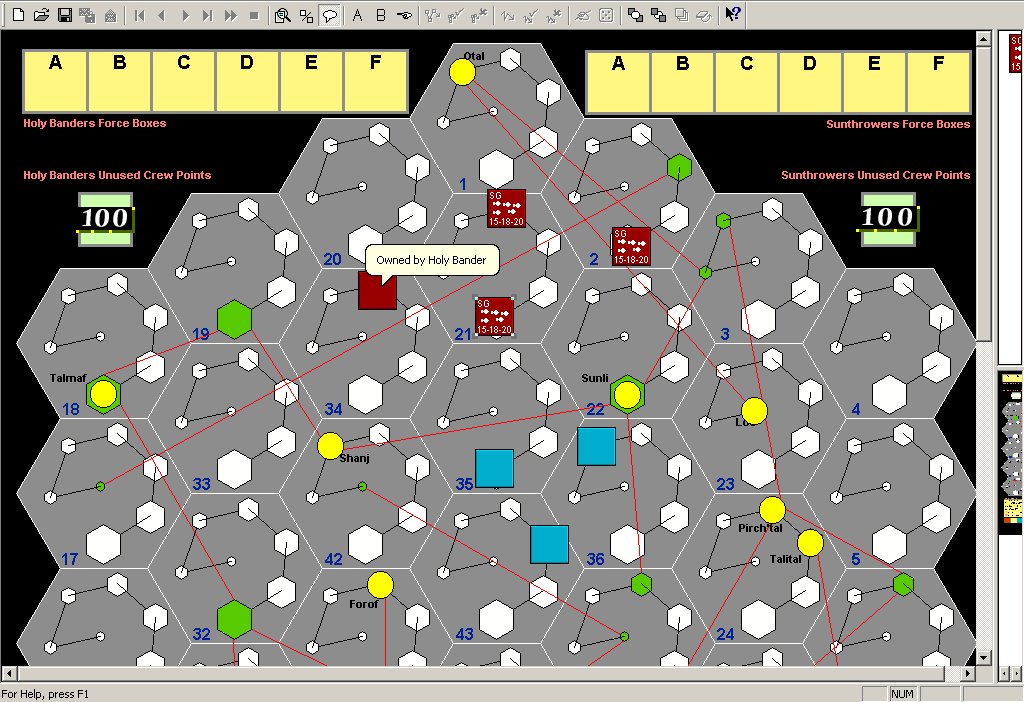 A NOTE ON THE MAP:
Holy War, like Godsfire, represents three dimensional space. The spiral of 7 hexes represent "levels." There are folds within space called WARP LINES drawn on the paper game map in red. I chose not to depict these as they clutter up the map badly and are a real pain to draw. To assist you in navigating the universe of Holy War, I've included THIS NAVIGATION AID in PDF, plus I've numbered the hexes (the blue numbers). I've circled warp entry and exit points with a yellow circle to show them on the map.
The Charts
Political Support Point (PSP) Track
| | |
| --- | --- |
| | This graphic shows a Combat Grid I set up in order to assist in ship to ship combat. |
TURN TRACK
| | |
| --- | --- |
| This is the turn track, with the turn counter on it. | |
---
How to get the files
Download Cyberboard Gamebox:

NEW VERSION TWO

Game Availability:
Fair. Out of print, still available on Ebay from time to time.
Related Links/Resources:
This page content copyright, Walter O'Hara 1999