UP to SPI

UP, UP to Q Division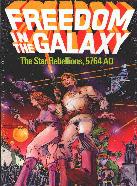 ---
Freedom in the Galaxy is a excellent strategic/tactical/RPG crossover game published first by SPI, Inc. and later by Avalon Hill-- designers were Howard Barasch (Barbarian Prince, Goblins, etc.) and John Butterfield (Stargate, Highway to the Reich, etc .) SPI had a line of EXCELLENT RPG/Strategy fusion games that accentuated single character development as well as a larger, strategic sphere; JOHN CARTER, SWORDS AND SORCERY, WAR OF THE RING and FREEDOM IN THE GALAXY all fall in this loose grouping. Perhaps FitG is the most popular of this crowd, at least the design that people like to tinker with the most.
Included here is a PBeM "gamebox" file for Freedom in the Galaxy, done by Mr. Thom Denholm. It should be noted that this is a separate version from an earlier effort posted on the SPI page. The previous version is more faithful to the boardgame map as printed, you be the judge as to whether that is beneficial for game play.
Note that this game utilizes cards and the gamebox has card image tiles implemented as objects; read Thom's notes (below) on how cards will be implemented, as card deck management is not inimical to Cyberboard.
This gamebox is provided, free of charge, as a Play by Email tool for wargamers who OWN Freedom in the Galaxy (SPI or AH version). Users who download this gamebox may NOT resell or redistribute it in any fashion.
Links

Dave Townsend spends an inordinate amount of time thinking about Freedom in the Galaxy. Here is a page he made supporting it.
Here are the Box Contents (SPI version, which is similar to the AH).
Here is some errata
Here is the Q&A posted in the General.

Here are notes on this Gamebox by Thom Denholm.


this page copyright 2001 Walter O'Hara
COMPONENTS
fromthe Gamebox