THE CREATURES THAT ATE NEW YORK

Play By Email Support Page
This gamebox was originally published in an old (very Old) MOVES magazine as an issue game. THE CREATURES THAT ATE NEW YORK is basically a stripped down variant of THE CREATURE THAT ATE SHEBOYGAN, but it takes place in New York and the emphasis is on searching for "blonde chits". I replicated the gameplay with a series of blue "blonde" chits that have a grey backing with a maroon question mark. The player setting playing Humanity would have to set this up in advance in the scenario when he distributes "blonde" chits.
There is also a series of counters for a Terrorism Variant found in Moves Magazine. This variant was for SHEBOYGAN, not the NEW YORK game. I made these in anticipation of a CREATURE THAT ATE SHEBOYGAN gamebox being ready, but it hasn't materialized. Perhaps soon..
UPDATE! The Gamebox for Sheboygan has been created... by Joshua Lawrence. See below for download.
NOTICE: This Gamebox is created using Dale Larson's excellent Play By Email utility, Cyberboard (the poor man's Aide De Camp!)
Visit the Cyberboard website by following this link

THE CREATURES THAT ATE NEW YORK is copyright, SPI, Inc.

Designer: Redmond Simonsen


The Action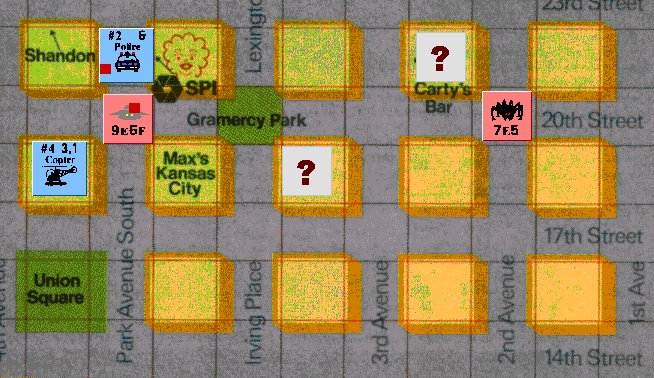 The graphic above illustrates some of the features of this gamebox. The boys at SPI Headquarters are making a spirited fight against invading UFO aliens. Meanwhile, a giant spider is investigating some of the mysterious "Blonde" chits down at Carty's bar. This is not a game meant to be taken seriously!
---
Download Creatures that Ate New York Gamebox:

Download Creatures that Ate Sheboygan Gamebox:

Related Links/Resources:
This page content copyright, Walter O'Hara 1999