UP to Net.Freebies

UP, UP to PBeM Emporium
---
NEW NEW NEW NEW NEW!
Alvin Helms version of ANTILLES!
Check out the artwork, you'll see you must download this immediately Brand new from a new company is a highly addictive solitaire design from one of the better designers in the business. Dan Verssen, designer of several interesting card game and solitaire designs, has joined forces with a new company called BATTLEPLAY. The result, an addictive, hard to beat solitaire microgame that is available, FREE, from the Battleplay website. Click on the links on the top left logo to go to the Battleplay website, click on the link on the top right logo to go directly to the Battle Platform Antilles web page.
The Cyberboard gamebox is designed by Mr. Walt O'Hara, and is very faithful to Dan Verssen's original design. Surprisingly, this is a game you can play solitaire with little difficulty using a PBeM tool. All charts provided with the download version are included with the game, though you will absolutely need a copy of the rules to play the game.
This gamebox is provided, free of charge, as a Play by Email tool for wargamers who OWN Battle Platform Antilles. File distributed with the permission of Battleplay.
Links

Battleplay (again)
Replay of Third Attempt at Beating Battle Platform Antilles using the Cyberboard Play Aid (and a very futile one at that)

The replay is posted to the Cyberboard Egroups site. If you are interested, you may have to subscribe to Cyberboard to view the replay.
Dan Verssen design ludography (partial, from GMT site)


this page copyright 2000 Walter O'Hara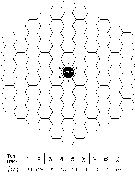 COMPONENTS
from Battleplay Website